Independence, assistance, and safety seamlessly blend at Cogir on Napa Road Assisted Living and Memory Care. Conveying a sense of belonging, our community is defined by professional care, modern layouts, and cozy gathering places. By opting for our Sonoma assisted living options, you let your loved ones experience the rewarding lifestyle they deserve.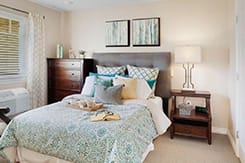 Accommodations and Services
Choose your loved one's gracious accommodations from a variety of floor plans. All utilities included except phone. Cable, Wifi, daily trash removal, housekeeping, building and grounds maintenance are included. Laundry service is also available.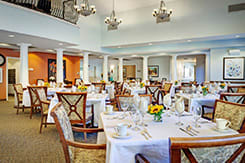 Layout and Amenities
Residents are free to explore the open memory campus at COGIR on Napa Road. Favorites include the welcoming living room with fireplace, the lush and lovely flowered courtyard, memory triggering life skills stations, a vintage décor-filled reminiscence café gathering space, and more.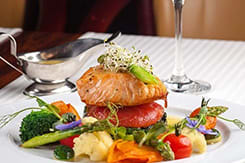 Food Services
The menu includes choices prepared by our excellent chef using farm-fresh, locally-sourced ingredients from a nutritionist-approved menu. Plus, special diets like pureed foods are available if needed.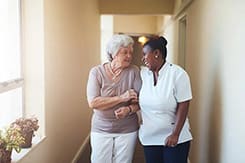 Care and Assistance
Care services are tailored to changing needs and include transportation to medical appointments, mobility, dining, hygiene and dressing assistance. We also provide medication and incontinence management, as well as diabetes assistance.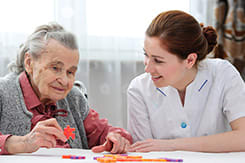 Activities and Leisure
Our open memory campus offers a variety of options for your loved one to enjoy. In addition to resident favorites like the living room, flower garden and life skill stations, there are a variety of scheduled onsite activities like daily physical fitness and scheduled group trips.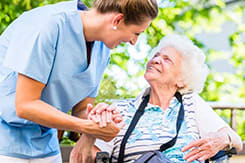 Safe Environment
Resident safety is a top priority. From 24-hour security and trained on-site staff to surveillance and emergency response throughout the property. Emergency pendants are available for added security. To ensure cleanliness, we exceed all state sanitation guidelines.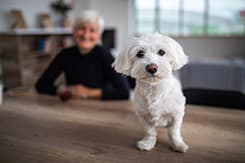 Pet Friendly
A pet's unconditional love brings joy and companionship to the lives of many seniors. Our welcoming pet policy underscores the importance of the strong bond between pets and their owners.
Senior Living Sonoma
Stimulating activities and peace-inducing areas are the key elements of this community. Our living conditions exceed all expectations, thanks to our secured grounds, highly trained caretakers, and compliance with the Alzheimer's Association®. Your loved ones will benefit from proper care, competent surveillance, and emergency response in a 24-hour-security environment. They even have access to memory-triggering life skill stations and a vintage décor-filled café that helps them reminisce, while being served delicious meals from locally sourced ingredients. Topping it all off, our accommodations list covers everything from cable, Wi-Fi, housekeeping, and a laundry facility. Being a leading choice for assisted living in Sonoma CA, Cogir on Napa Road knows that leisure is paramount to one's sense of well-being. We have a tranquil living room with a fireplace, a lush rose garden, and a game room for group activities. Residents can engage in thrilling activities and classes such as yoga, puzzles, billiards, choir, and painting. Couple this with our secure memory care facility, and you get the optimal ambiance you or your loved one is sure to enjoy.
This rewarding experience comes with a coveted location, as well. We ensure transportation to medical appointments to the nearby health centers such as Sonoma Valley Hospital or Prima Medical Group and escorting to city outings to any of the surrounding theaters and parks.
Schedule a tour and find us on 91 Napa Road in Sonoma, CA!
Testimonials
Cogir of Napa Road was very nice. It was very well laid out, very clean, modern, and well-kept. Their menu looked like it had a very good assortment of food. They have several activity rooms that were well maintained and set up for things for people to do. The apartments were also well-kept, well maintained with a nice assortment of floor plans. Omar was fantastic. He took me around and showed me everything. He was very knowledgeable, easy to work with, polite, and patient.

- Vincent (Caring.com)
From the start we noticed smiles, not only from staff but from residents as well. And the administration and nursing staff went out of their way to smooth transfer details, greatly easing our stress. Our aunt was delighted with the holiday decorations, access to religious services, many musical and community events, and especially the warm and welcoming fellow residents who happily engage her in conversation. After only a couple days she was absolutely twinkling! Bravo, Cogir!

- Robert A. (Google)
I visited several Memory Care places but could not find one that had all the services I was looking for. I wanted a place where my mom would be safe and be treated with dignity, a kind and compassionate staff, a clean and cheerful environment and a lot of activities and exercise. I found all that at Cogir on Napa Road. After a couple weeks she has adjusted and is happy with the guidance and patience of a very professional staff. I feel relieved and great full that she is in such competent hands.

- Max (Google)
My mother has lived here for several years. Her apartment is quite nice and the staff and caregivers are very loving and kind to her. The friendships and opportunities to enjoy good conversations with friends has helped keep her in good spirits. I would highly recommend Cogir of Napa Road to anyone who doesn't want to be lonely at home anymore.

- Judy B. (Caring.com)
Beautifully set in the Sonoma Valley, Cogir on Napa Road has been truly a blessing for our father and family. The buildings and grounds are wonderfully kept, we have found them to be warm and welcoming. The staff, which are the most important element to any facility, are absolutely the best. They are professional and friendly, always willing to help with our fathers needs, he truly has become close to many of them.

- Vince T. (Google)